Let me tell you about the places we didn't go.  There's the Old Absinthe House, the Spotted Cat, Jacque Imos, Pascal's Manale, the Napoleon House, Tipitinas, and Pat O'Brien's.  We didn't see the New Orleans Museum of Art, the Ogden Museum of Southern Art, the Audubon Aquarium of the Americas, or the Audubon Zoo.  We didn't wander the Faubourg Marigny and Bywater, or see the skeletons of Rosalie Alley.  I say this so you understand we will be back.  We've left so much undone, we must go back.
Ah, but what we did see.  Long days at the Jazz Fest seeing everyone from the hugest names in rock and roll to the small local Cajun bands to the gospel choirs.  We walked miles, drinking at Lafitte's Blacksmith shop, Parasol's, the Bulldog, and so many other watering holes, drinking Abita, Dixie, La 31, French 75's,  and even a hurricane on Bourbon street (not recommended for people with taste buds).
And we ate.  We ate oysters, po' boys, catfish, gumbo, jambalaya, and crawfish.  Lots of crawfish.  Crawfish étoufée, crawfish monica, boiled crawfish, so much crawfish. We ate too fast and we ate too much.
Oh, and the streetcar.  We rode that iconic St. Charles streetcar, with the wood seats and the "wubba wubba" of the compressor, from one end to the other and back, never tiring of the fresh air blowing in our faces and the mansions that line St. Charles filling our eyes with images of filigree.
Mark and I were fortunate enough to  introduce four dear friends to the delights of New Orleans last week.  People we love in the city we love.  And such a delight, Jan and Mark and Joan and Andy, open to anything and easy to live with.  This has been a week I will never forget.
I asked, time and time again, "are you having fun?  Is everything good?"  I knew the four of them were having fun, having a wonderful vacation.  I just wanted a little more, a sign.  I got two.
One, a beautiful tile to remember the trip.  I can imagine the conversation, "Does she already own one?  Are you sure?" "Eighty percent sure, ninety percent.  She had lust in her eyes when she looked at it."  No small token, it is a piece that brings tears to my eyes, that lets me know they understand.
Then the second sign.  These four people have children, have pets, have beautiful houses carefully planned and altered to meet their needs, all here in the mitten.  Their lives are in the corner of the palm of Michigan.  They love the tulips of spring, the feel of a fresh snow and crisp air in winter.  They know the New Orleans summer heat would sear their skin, the humidity would crush their bones.  They know the palmetto bugs and termites take the city over, they know the smell of stale beer, vomit and urine starts to overtake the sweet honeysuckle.  And yet, like so many of us, they couldn't help themselves.  They started to read the real estate listings.  No one among us is moving to New Orleans, but now I know, they've fallen in love with the city.  Just like me and Mark, they leave a piece of their heart there, and replace that piece with a fleur-de-lis, to remind them of the amplified colors, sounds, smells, and tastes of New Orleans.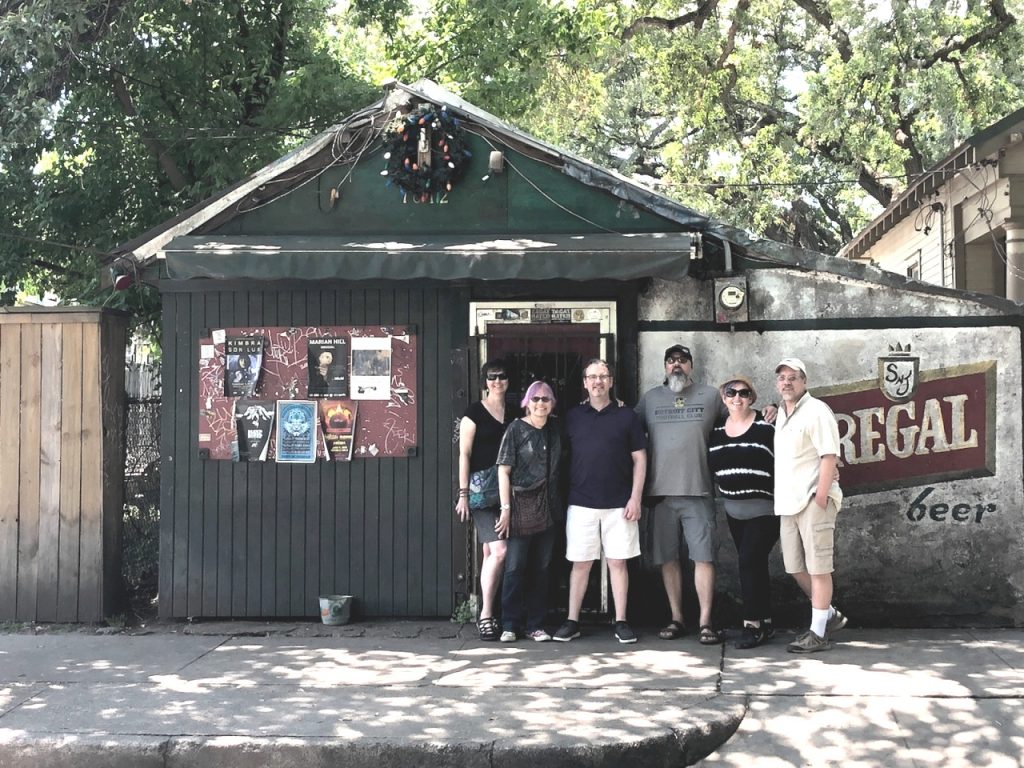 Here we all are, in front of Snake and Jake's Christmas club lounge.